Christian missionaries in India practice plagiarism, defaming Hinduism and try to create confusion in innocent minds by deriving concepts and culture from Hinduism.
Christians, overall being peace loving, their contribution to the world is adorable. But Christian missionaries in India are totally in a path to defame Hinduism
Is above buildings are temple or Church? Confused? Its Church built with Hindu architecture with cross above by Missionaries
In above picture, Jesus is depected as Hindu god Lord Vishnu or Rishis. And notice the right image plagiarizing ancient and powerful Surya Namaskar as "Jesus Namaskar"
Ancient and powerful Surya Namaskar technique rebranded as "Jesus Namaskara"
Christian missionaries in Hindu saint dress in North East India
Infant Lord Ganesha with Marry and Jesus depicted in form of Lord Vishnu
In one of the churches, Missionaries copy Lord Krishna's charriot, Ancient Hindu Kings traditional charriot and use it for Jesus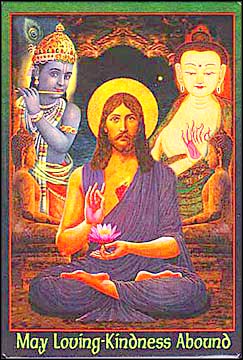 In the above picture, the Missionaries have attempted to move Lord Krishna and Buddha to the side and try to position Jesus as main God.
Above picture shows how Christian gods are shown on leaves a typical Hindu style plagiarized by Missionaries